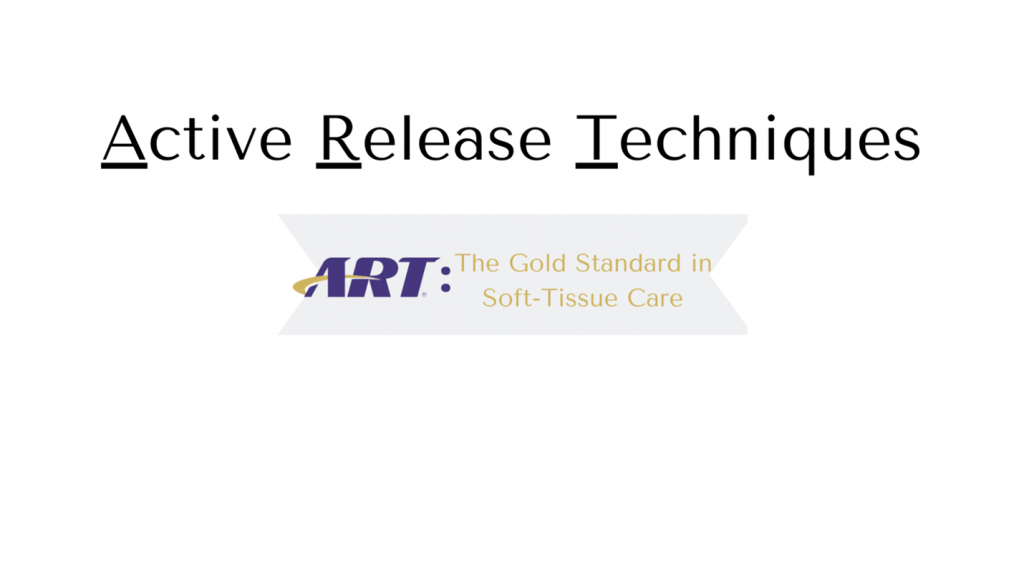 What is Active Release Technique (ART)?
If you've been into Active STL Chiropractic, you've likely heard Dr. Brennan talk about Active Release Technique or ART. It's a technique frequently used here in our St. Louis office in order to help patients relieve their soft-tissue pain, increase range of motion, and work to reduce future injuries.
But let's back up a minute. What are our soft-tissues?
In this video, we break down the Cumulative Injury Cycle, the different soft-tissue injuries that cause the pain in the first place, and how ART relieves that pain at its root. This video is a great start to exploring more about the ART method!
While ART is a common practice in chiropractic care, it does require specific certification. As a sports chiropractor and certified ART provider in St. Louis, Dr. Brennan frequently uses this on athletes. Many times, these athletes are simply unaware of how their form or muscle weaknesses are either keeping the issue from being resolved, or in some cases even making the issue worse.
Let's use an example to help illustrate.
A patient comes in complaining of ankle pain while running and some minor swelling afterward. She immediately thinks she has something wrong with her ankle. But the pain also travels into her shin and even up into her quad muscles. Can those two separate pain points be related?
Yes!
But how can that be when the worst pain resides in her ankle?
Through continued analysis, we test her glute muscle strength and realize her left glute muscle is substantially weaker than her right glute muscle. When we have these kinds of imbalances in muscle strength, our bodies find ways to compensate, and sometimes that means injuries occur in seemingly unrelated areas of the body. With some simple, consistent glute exercises her issue gets resolved after a few weeks.
Now she runs Forest Park with no problem!
While form correction and muscle strengthening are long-term solutions to prevention, how did we treat her injury and pain right away?
Active Release Techniques!
We want to repair and restore the tissue first. During an ART session, Dr. Brennan uses his hands to identify areas of tightness in the muscle tissue, then utilizes specific pressure that will elongate the muscle back to what its proper length should be.
The duration of this process usually depends on a number of factors. One is how long the patient has been in pain, the severity of the tissue injury, & how aggravated it gets on a daily basis. It may not get resolved in just one visit to our office, but at Donahue Chiropractic our goal is to get you out of pain as quickly as possible, then start spreading out your visits, as needed.
What to expect during ART Treatment
While Active Release has zero known side-effects, it can be a little uncomfortable for patients. Just as you might expect a massage to ache or sting in spots where you have significant tension or knots, ART is similar. We encourage patients to communicate with Dr. Brennan during treatment so a patient is never pushed into a painful position.
Dr. Brennan will also incorporate range-of-motion movements while maintaining consistent technical pressure. This is where the magic happens! Your soft-tissues will thank you!
Soreness following treatment is completely normal.
Who's a good candidate?
Athletes are good examples of patients who we often treat with ART, but they are most definitely not the only ones. Anyone experiencing nerve or soft-tissue pain should seek this treatment option. Sometimes patients who have tried many other treatments for their issues finally try ART and it gets them long-awaited pain relief.
At Donahue Chiropractic, we want to get patients out of pain and keep them out of pain. The more people we get feeling better, moving better, and living better the more we fulfill our mission at this practice. And that's been our goal from day one.
Feeling like you want to check out Active Release Technique in St. Louis?
Schedule an appointment today! Click Here
If you're not in the St. Louis metro area, visit https://activerelease.com/find-a-provider/ to find one near you.